Writers are readers first, and Veda is no exception.
"When my brothers got in trouble at home, they were sent to their rooms for a specific amount of time. The few times I got in trouble (I was such a good girl), I was given more chores. I once asked Mom why she didn't send me to the room I shared with my sister as my punishment. She said she didn't want to reward me by letting me read. She was one smart mom."
Veda began writing on the Neosho High School newspaper, serving as a rotating editor during her senior year. The following year at Crowder College in Neosho, she served as co-editor of the Crowder Call. And that ended her writing career for a while except for research papers.
Those class papers centered on her history major. After Crowder (AA), Veda attended every school in the region, according to her husband, Jimmie. Actually, she systematically went to Pittsburg State University (BA) and the University of Arkansas (MA). Then she went to Loretta Heights in Denver, CO, (she was on staff there and only took skiing); University of Tulsa, OK (math classes for her job); Missouri Southern State University, Joplin (teacher education hours for a teaching certificate). Recently, she graduated from the Stonecoast (University of Southern Maine) MFA program in creative writing.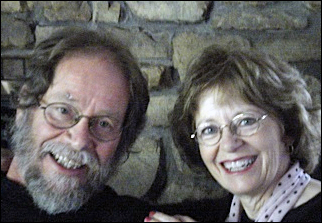 "Before I married Jim (the best architect in town), I worked as assistant manager in actuarial services at Blue Cross-Blue Shield in Tulsa, and my boss said, "You can't make an actuary out of an historian." He was only half-way joking when he said that."
But you can make a writer out of an historian. Veda claims the research skills she learned in school have served her well as she's researched nonfiction books and even details she needed for novels.
"You can't take one source and believe it. There's so much misinformation out there, especially on the Internet. In graduate school I was taught to get five independent sources for facts. Some publishers I've worked for require two sources for every fact. I have to send copies of the information with the manuscript."
Veda started writing after reading some romance novels and saying "I can do better than that."
"Turns out I couldn't. I wrote four complete romance manuscripts before I sold the fifth one. The first four were pounded out on the typewriter, revised once, retyped, and then submitted. The fifth was written on a computer, and I revised it several times and pushed 'print' and there it was. A computer allowed me to revise and revise and get words just right. The practice of writing those first four books also taught me tons about writing. Later I revised the first four manuscripts on a computer and sold them all."
When she started writing those romances, Veda had small sons, so she only wrote for two hours each day while they were taking afternoon naps.
Soon she had branched out to children's fiction and nonfiction for magazines, articles for reference books, and then middle-grade novels and nonfiction books for children.
"I've written books for first readers and books for high school students, plus the romances for adults. I like the variety of working on different readership levels."
Now, 47 traditionally published books, 14 original e-books, and over 700 articles and short stories later, life has changed around the Jones household. Her three sons, Landon, Morgan, and Marshall, are grown. Jim, a Vietnam vet (draft #57), died a few years ago after five primary cancers linked to Agent Orange.
"Things are a lot quieter. I have lots of writing time, but I seem to fill it with friends and volunteering. But when I'm on deadline, I write all day long."
Q and A
Where were you born?
Sulphur Springs, Arkansas. It was a small town of 466 people when I lived there, and I was related to half of them and the rest of them knew my name. I could call the telephone switchboard and ask for my daddy, and the operator would put me through. That was the day of phones that plugged into walls and party lines. It was a different world, and yet, those on the party line listened in to others' calls, so in it's own way, it was like Facebook, but with more gossip.
What's your home office like?
It's wonderful. My desk space is a professional office setup. My computer sits in the corner of the room on the work station, but counters run both directions from it under windows. I stare out those windows a lot when I'm plotting. Of course, there are bookcases and filing cabinets and stacks of papers, which I periodically file.
What do you try to write about – is there a theme you try to hit upon – a favorite theme? Subject?
In romances, I write about what interests me.  Children's nonfiction is generally by assignment.  An editor calls and gives me a list of projects to choose from, and again I pick what interests me.  I've turned down a dozen books because I didn't want to spend a few months immersed in a subject that didn't appeal to me.
How did you break into the industry, which has a reputation of eating up young writers, chewing 'em up and spitting them back out?
I didn't get discouraged by rejection.  I also wrote quite a bit for reference books and for magazines, so I had a track record before I broke into books.
Is it easier for women to publish their work these days? Was it always as easy – or were their barriers?
I don't think an editor cares if a writer is male or female.  An editor wants a good story in fiction or meticulous research in nonfiction.  Of course, the writing has to be strong and entertaining in both areas.
How long does it take you to write a novel? How much research and editing?
It takes about four months to write a romance novel.  The mainstream novel I'm now revising took three years to write: I wrote bit by bit while I did other assigned projects.
Any advice you can give to women writers?
Learn the craft, and stick with it.  I believe the saying that writing is 5 % inspiration and 95 % perspiration.
Any advice you can give to beginning writers?
Read good books. Take a course in writing. Attend writers' conference.  And write, write, write.  Every word written will make you a better writer.
I've heard writers say "tenacity" is the key – how do writers achieve it, and does that make or break a writer?  
I'm a list maker, and I follow through until I finish a project and can mark it off the list. I have never missed a deadline, and I usually turn in my manuscripts early.
What is the most difficult aspect of writing?
It's all hard. From idea to finished book, the process is work. But I love the work. It brings me joy.