My 92-year-old father-in-law moved to Rogers, Arkansas, last week. He'd held a living estate auction the week before and had cleaned out the detritus of 51 years in the same house in Neosho.
On moving day, as other family members carried and loaded the truck with bedroom furniture and end tables and a few other items he'd need in his rental house, my job was to clean the empty rooms.
Wiping off baseboards, dusting closet shelves, and sweeping deserted rooms doesn't take a lot of concentration, so as I worked, I thought of the memories that I have of this house: watching New Year's Day football games, learning how to make sugared popcorn, playing pool in the basement.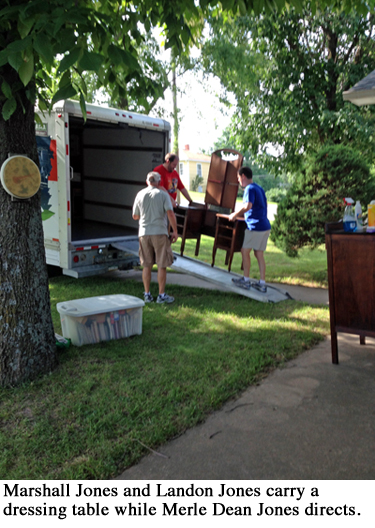 If I had these memories, what must it be like for Merle to leave a place where he'd spend the majority of his life, the place where he'd built up a terraced garden, the place where he'd welcomed his son back from Vietnam, the place where his grownup and married grandkids had first visited as infants, the place where his wife took her last breath?
What courage did it take to relocate as a very senior citizen, leaving friends and routines and familiarity behind?
True, he wouldn't have to negotiate stairs anymore. His one-level rental house isn't on a hill, so he wouldn't be snowed in during the winter. It's located three blocks away from his other son and my sister (my sister and I married brothers), his granddaughter's family lives five blocks away, and his great-grandsons attend the elementary school three blocks the other direction. So, he has family nearby.
And he has a new view out the dining room window. A new beginning.
Jim and I went down yesterday to visit, and he'd already discovered the grocery store, bigger than the one he was used to in Neosho. He mowed his yard this morning by 9:30 before the day got too hot. He's not one to sit still for too long.
I admire the change he's made. But I can't say I like the change.
Jim and I drove back to Joplin the old way before the new highway went through, what? a decade ago? The old highway was empty, deserted most of the way. Were people just rushing at 70mph in a crush while we meandered on our way back to Joplin? We took time to go around the Bentonville square and the square at Pineville, too. We drove down the Boulevard in Neosho and marveled at so many changes and the knowledge that the next time Merle returns there, he'll see it with a different eye.
Thomas Wolfe was right. You can't go home again to the same place anymore than a river stays the same from moment to moment.
Everything changes, and although most of the time I fairly easily adapt to change, there are some days I can hardly stand it.