For the last few weeks, I've been getting ready for the new decade. I'm getting ready for … something. I don't know what. Maybe something exciting.
I've had my oil changed, tires rotated, teeth cleaned, driver's license renewed. I've also renewed my passport, washed windows, scrubbed and waxed the floors downstairs. Yesterday after vacuuming, I took the vacuum apart and washed it and the filter. I've donated clothes from my closet to the veteran's resale store. I paid my property tax early and have already paid for my 2020 supplemental health insurance plan. I emptied the ice maker of old ice. I had my hair cut.
I had my dreaded annual mammogram on the day we had a fine mist and below freezing temps.
As if the test wasn't enough with all its squashing, squishing, and squeezing, after the screening was finished, I walked outside to find my car covered with ice.
My scraper was right where it was supposed to be, (of course) so I got it and chipped and scraped off the windshield. I was working on the driver's side of the back windshield when a woman I'd noticed across the lot came up to me. She had finished scraping her car, and she could have driven off. But she didn't.
Instead she stood on the passenger side of the back windshield and held up her scrapper. "Okay if I get this side?"
"Okay? Great!" We worked on the window until it was ice free.
"Have you already cleared the front?"
"I have. Yes."
With my thanks, she smiled and walked back to her car and pulled out of the parking lot.
I don't know her name. I'll probably never see her again, and with my poor recall of faces, I wouldn't recognize her anyway.
But her good deed stayed with me as I marked off all the other end-of-year tasks I wanted to complete.
I want to be like that woman. I want to help others on a cold day. Maybe that's what I'm getting ready for.
An Ad:
Contemporary books have a short shelf life, but with eBooks, fiction can be updated to fit our current times. I've updated Joe's Ghost and found all sorts of things have changed in the ten years since I wrote it. Flip phones changed to smart screens. Taxis compete with Uber. Instead of checking movie listings in the newspaper where they are no longer advertised, one character looked them up on the Internet.
So, Joe's Ghost is now new and improved. Download your copy today.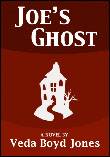 Joe Murray had a life in California for thirty years–in films. Oh, he was never the hero, but he had steady work as the hero's sidekick. Then he suffered a stroke at age 52. Could have been worse, he knew that. He could walk, he could talk, but he had difficulty remembering lines. His career was over. Five years earlier he had inherited his aunt's old home in Joplin, Missouri, where he had visited every summer of his childhood. Now he retreats there to open a bed and breakfast with an older friend, Scott, a former pilot, who is gay. No one is straighter than Joe, but the two men form a strong bond, a new take on an odd couple.
Buster runs the contracting company hired to remodel the old Pope place into a bed and breakfast. Working in what the town has always referred to as a haunted mansion doesn't scare him. But he wonders, is it just superstition or is something supernatural going on in the old house?
Claire owns the local bar on South Main Street. The Idle Hour is only blocks from Joe's house, a great place for Miller Time. She's a single mom, a former schoolteacher, and is a disappointment to her mother. But Claire wants to own her own life, not a life laid out by someone else.
These lives are intertwined as they search for the secrets in Joe's new home. Joe's Ghost is a story of hope and forgiveness as these folks come to grips with where their lives are heading and how to deal with changes they didn't choose.