Every few years when I'm in-between projects, I clean out Important Papers. I tend to stuff things I may need in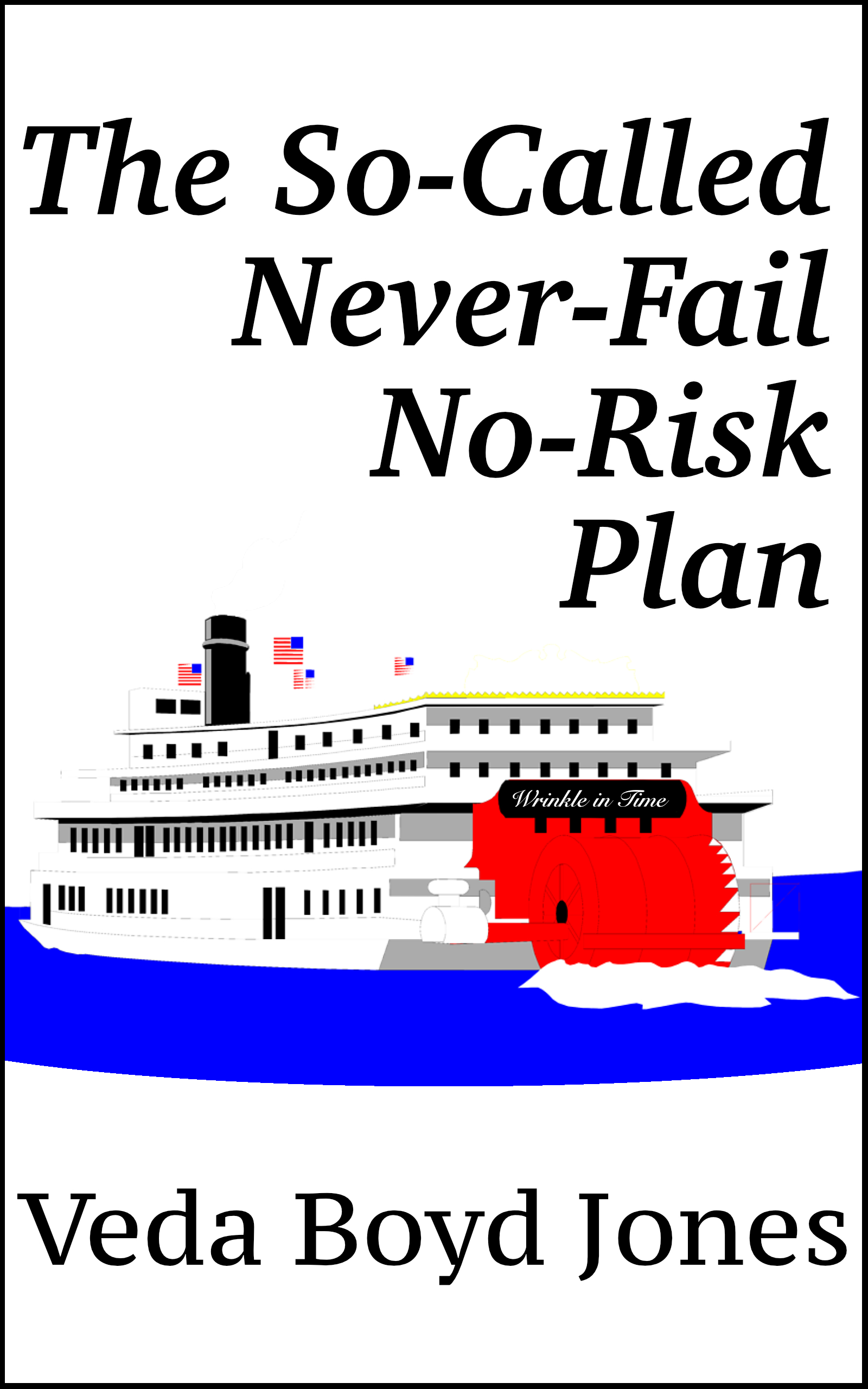 a bookcase of cubbyholes within easy reach of my office chair. (Think of pigeonholes in an old roll-top desk, but on a larger scale.) The dates on many items, like Christmas present receipts, tell me I last tidied up this mess in 2019. Since my clutter doesn't make a good topic, I'll finish this month's entry with my recent flurry of activity. Here's the free First Chapter of my new Christmas novella The So-Called Never-Fail No-Risk Plan that launched on Amazon yesterday.

The So-Called Never-Fail No-Risk Plan
Chapter 1
Vicki Wray smiled as she gazed down at the Mississippi River from her stateroom balcony. The rail was decorated with evergreen garland and a big red bow giving it a festive air that matched her mood. This was her Adventure of the Year, and she'd barely fit it in before the year ended.
Each month, from the first of January on, she set aside a portion of her schoolteacher's salary for an adventure. Some years the adventure was a long weekend road trip. Other times it was a big special trip, like this riverboat cruise from New Orleans to Memphis.
The sliding glass door of the stateroom next door skidded open. A man stepped out and leaned over the rail so that she saw him clearly around the balcony divider. Tall with lots of brown hair, he wore a cranberry red windbreaker with jeans. He was looking down at the water, then turned his head, and his direct gaze settled on her.
"Hi, neighbor," she said.
He smiled. "Hi, neighbor. I think we'll cast off soon."
"Very soon," she said. She had memorized the schedule of departure and arrival times for ports along the way and planned to head up to the top deck to watch the crew take in docking lines. From her balcony view, she could see across the wide river to the opposite bank, but she wanted to see the boat pull away from shore.
"Scott," he said and pointed at himself, then pointed at her.
"Vicki," she answered. "See you around the boat." She gave a friendly wave before going back inside. No need to start small talk with a stranger when there would be more than enough of that ahead.
She grabbed a hoodie, checked that her room keycard was tucked behind her name tag on the cruise line lanyard, and walked to the stairs near the midpoint of the long hallway. Her careful study of deck plans told her this third deck was all staterooms, and for this holiday cruise, a small evergreen wreath decorated each door. She also knew that Scott was in a single room, just like hers. Singles were at a premium, but there were several on this side of the stairs.
In the Sky Lounge on the fourth deck, a buffet style lunch was served for those who wanted to grab something instead of eating in the formal dining room with others. No surprise that gumbo and rice were among the choices, and she heaped a bowl and climbed to the open-to-the-sky fifth deck to eat by herself and watch the sights. She didn't have long to wait for activity on the wharf. Watching with delight, she drew in a deep breath of satisfaction as the crew in red shirts unhooked lines from shore and the paddlewheel on the stern began its first turn.
This was it, her Adventure of the Year. She was on the mighty Mississippi.
Even after she returned her empty bowl to the Sky Lounge, she climbed back up to five to watch as the riverboat passed underneath a long bridge. Holding up her phone, she took a couple pictures of the retreating skyline of New Orleans and sent them to Grandpa.
He always encouraged her adventures, and she'd assured him she'd be back on Christmas Eve. She wouldn't miss their annual traditions.
She had no memory of any Christmas other than the ones at the ranch. And from the time her dad was killed when she was six, she had lived at the ranch. Her mom had no choice but to move them back to her childhood home, but they moved into an old fieldstone one-room schoolhouse on the property instead of living in the main house with Grandpa and Grandma. Her mom had died of breast cancer when Vicki was seventeen, and from then on she had lived in the schoolhouse alone.
She stayed there even as she commuted to college in Enid, which was only a fifteen-mile drive down straight Oklahoma roads. Through the years, the old school had been updated until it was as modern as any apartment, but it had the advantage of shade trees, a garden, and big views. And it had the uniqueness of a belfry in the entry where a rope still hung down, begging to be pulled by Vicki's friends. And they all pulled it, of course.
Her friends were many, mostly other schoolteachers now, but there were still some classmates who had stayed in the area. She had thought of asking another single teacher if she wanted to take this riverboat journey over Christmas break, but that had been a fleeting thought. She traveled better alone. She wasn't a solitary woman, but she had spent a good deal of her 28 years on her own, and she was comfortable with her own company.
Now her solitude was interrupted as others climbed the outside stairs to the fifth deck. She sat in one of the rocking chairs that lined the rails on three sides in dull sunlight that did nothing to make the air feel warmer than the 59 degrees her smart watch registered. The flag that hung off the back rail unfurled as a strong breeze caught it, and Vicki pulled her hoodie a little closer.
Cushioned wicker couches and tables and chairs sat in the shade of a wide canopy, but she would not need shade on this voyage. She didn't come in December expecting a sunbathing cruise. This was adventure, and she took a picture of a tugboat or towboat, she needed to learn the difference, pushing a long barge.
"How's it going?" a tall man about her age rocked her chair to get her attention, much like a junior high boy would do, she thought. Although she was more familiar with the sophomore boys she taught, their behavior was much the same when it came to being around females.
"It's going all right," she said and set her feet firmly on the deck to avoid being rocked again.
"First cruise?"
"Yes."
"I'm Brian from Jersey."
"Vicki from Oklahoma." She volunteered no more than that, but he must have taken it as an invitation, for he took the chair next to her.
"I've been on several cruises. Grandfather likes them as a way to see several places without the hassle of lugging suitcases and packing and unpacking."
"You're traveling with your grandfather?"
"And father. We take a week-long outing at least twice a year as a male bonding experience. When it's my turn to choose, we go to beaches. Sometimes in Europe."
"No fishing or golfing or baseball games to bond?"
"Nope. You have to meet my family to understand. Work is the bonding element except for when we're on a trip, and then we're on the lookout for… action." He said the last word while looking at her ample chest, and she thought he was implying that she was looking for… action, too.
"Ah," she said for lack of anything else to offer. She stood up and moved around her chair, but he caught her forearm.
"Don't go," he said. "I thought we could get acquainted."
"Turn loose of me," she said in her stern schoolteacher voice. She shook off his grasp and glanced around. A few yards away stood Scott, watching her.
"Excuse me, my friend is back." She walked straight to Scott. "Play along, please," she whispered.
"Vicki," he said in a voice that carried and put his arm around her shoulder. "I wondered where you had gotten to. Enjoying the landscape, honey?"
She looked up at him. "Thank you," she mouthed. In a normal tone she added, "Just as you said, Scott, the casting off was something to see. I think I'll explore the rest of the boat now that we're underway."
"I found the Magnolia Lounge, and it'll work great for tonight's entertainment. I'll show you."
He put his hand at the small of her back and ushered her before him. They went down the outside steps to the open deck below, through the door to the Sky Lounge, where staff were clearing away the buffet lunch, and into the hallway.
"Thank you so much," she said and stepped away from him. "I really don't have a hard time shutting down jerks, but I didn't want to start this cruise with a scene."
"We need a plan. Anytime you need rescuing, give me a sign," he said.
"Like this?" She held her hand up to her cheek and gave a nearly imperceptible wave of her little finger.
"I'll watch for it."
"Thanks again, neighbor," she said and walked on alone to the staircase that led downstairs.
****************************
 Scott Allen watched her walk away. Her purposeful stride belied her looks, which he best thought of as alluring. Even in the hoodie and jeans, her hourglass figure, with an abundance on top, would grab any male's attention. It sure got his when he first glimpsed her on the balcony.
Her blonde hair was caught back in a loose ponytail, and her blue eyes were prominent in her oval face. She didn't shy away from direct looks but seemed like an in-charge person. That she asked for his help made him feel protective toward her, but he sensed she didn't need protection. She just took the best way out of a situation because she would be in close contact with these people for a week.
He walked back out on the fourth deck in the sunshine and stood by the rail and would have gone upstairs to the top deck except he wanted to give Vicki's alibi a little time to appear real. Plus he didn't want to see that jerk. His words about finding the Magnolia Lounge were true enough, and it would work well for the evening's entertainment. It had last night when he'd played his guitar and sang.
He was the evening's entertainment.
His life had taken many turns. This was yet another one. If Jeremy's mom hadn't been in a car wreck, Jeremy would be on this cruise playing the keyboard as his regular gig. But his frantic call yesterday could not go unanswered. No way Scott would ever say no to his army buddy. He had boarded the boat at the Houmas House dock late yesterday morning and spent the afternoon familiarizing himself with the Magnolia Room acoustics and the riverboat routine.
He had gone through college on a ROTC scholarship, but playing the guitar and singing had always been a part of his life. During college, he and friends had formed a band and played a few weekend gigs in college bars. Upon graduation, he immediately went into the army. He and Jeremy met on the base in Germany, and they hit it off like brothers, forming a two-piece band with Scott on guitar and Jeremy on keyboard, which meant every other sound possible.
Scott's army training as a helicopter pilot had helped him much more than his degree in business—so far. He hoped that business education would come in handy as his songwriting and recording career took off. He'd made two single records on his own dime with studio musicians, and the second song had hit number 14 on the pop country charts. He viewed that as somewhat of a miracle that it had even gotten air time. With a lot of lucky breaks, three of the songs he'd written had been covered by other artists, and one of those had climbed to number 6. A record company had recently offered him a contract, and he was writing songs for an album, which he'd record in February.
Until last week, he'd worked as a helicopter pilot, flying personnel and supplies to off-shore oil rigs. But come the end of December, he was leaving NOLA and relocating to Nashville, at least for a year. He'd find exceptional musicians for a band and give that a good try, but he would keep his pilot's license current. His boss had assured him that he could always come back and fill in for a pilot. There was always need.
He should be packing up now, but he wasn't worried about that. He traveled light, renting, not owning, and not being hung up on material possessions. This short job on the riverboat would just add to his resume of musical gigs. And it would be a novel experience. He might put it in a song.
Now he figured enough time had gone by to hit the uppermost deck. In the Sky Lounge he veered by the small refrigerator to grab a bottled water. On a table sat two large oval-shaped metal containers filled with ice and bottles of wine and beer. Scott had nothing against moderate drinking, and he'd indulged himself more than he should have in college, but age and responsibilities had cured him of that. No way an on-call pilot could have a sip.
The jerk was still on the top deck, and this time he'd successfully hit on a woman who held a wine glass. She appeared to be well over a decade older than he, but that was probably not important to this dude. Scott was jumping to conclusions. For all he knew the chump was a standup guy, but Vicki's reaction to him had colored his judgement.
This woman leaned toward the guy as they stood by the rail, and before long Scott watched them walk arm-in-arm toward the stairs. Good. He should text Vicki that the coast was clear, but he didn't have her number. Next time he saw her, he'd ask so he could be her lookout.
He waved to an older couple he'd met at lunch in the dining room. Jeremy had told him to befriend as many passengers as possible to fill the lounge at 8:30.
Most of the guests in the dining room were older couples, but he'd noticed a handful of singles, mostly middle-aged women and a few middle-aged men. Of the passengers he'd seen, only he and the jerk seemed to be in their early 30s. The age of the audience would determine which songs he sang, and he needed a stellar performance to keep them coming back night after night. Jeremy had said the best way was to pick a theme or cover a couple artists' biggest hits so the audience would be familiar with the tunes.
Scott leaned against the rail and stared out at the water and tried to mentally measure how wide the river was here. There was lots of barge traffic, and he wondered what products were being shipped.
"Hi! I'm Leslie." The woman, probably mid-forties, held up her passenger name tag that dangled in its plastic sleeve on her lanyard, which was required for entry and exit of the boat.
"Scott," he answered. "First cruise?" That seemed like the opening of most conversations.
"First on a river. I've done the usual Gulf ones several times. You know, Mexico."
"How does this compare?"
"A whole lot smaller ship with less to do." She waved toward the plain miniature golf course of maybe four short holes with no standard obstacles like windmills or tunnels. "This seems to be the extent of it. Want to play?"
He had no good reason to decline, so he walked with her to the course, which only measured about 15 by 30 feet, if that.
She talked about herself while they tapped the balls with short golf clubs, telling him she was recently divorced and giving herself a little Christmas cheer. She was from Oregon, so she was behind a couple hours.
"I live in NOLA," he said, "so still on central time."
"You don't have the drawl."
"Originally from Nebraska, so no accent to speak of."
"This isn't very challenging," she said and took a stronger swing, which sent the golf ball into the air just high enough to clear the 4-inch edging of the course and sail through the pickets of the boat rail and into the Mississippi.
"Oops!"
"That will cost you a stroke," he said.
"I imagine there are a couple more balls on board," she said in a sultry voice and moved over to stand beside him. "So what shall we do now?"
His much younger self would have followed up that sly innuendo with one of his own, but now he glanced away from her and at the other passengers. He spotted Vicki several yards away, caught her eye, held up his hand, and gave a minute gesture with his little finger.
She quickly covered the distance between them.
"Honey, I've been looking for you," she said and put her hand on his upper arm.
"Vic, this is Leslie from Oregon," he said.
"Vicki Wray," she said and held out her other hand to Leslie but kept a possessive hold on Scott.
Leslie looked from one to the other. "Well, lucky you."
"I hope you have a good vacation," Vicki said. "Isn't this a dream come true? A real adventure."
"Yeah, sure." Leslie turned away and walked to a deck chair where another woman sat nearby. She said something, and the other woman looked their way.
"Thanks for the rescue," Scott said and escorted Vicki to the rocking chairs at the stern. He looked down at the roiling water churned out by the rotating paddlewheel. "If we didn't need to get along with everyone for the next week, I could have taken care of that myself. But there's no avoiding people we'll see over and over."
"Exactly my thought," Vicki said. "Most of the passengers are older and married, so I think we just came up against two odd unattached ones. There aren't that many single cabins."
"True. But I think some women are traveling together, sharing a room. Economizing." He held up his hand and exaggerated the signal so it became more of an obvious come-here gesture. "I think we need to do more than our signal. I was going to text you earlier when the coast was clear of that jerk, but I didn't have your number. And it would work better for this sure-fire plan if we ate meals together so others saw us as a couple."
She studied him a long moment as if looking for a better explanation.
"I'm the singing entertainment. This is my buddy Jeremy's job, and I'm filling in, so I don't want to jeopardize it for him. His mom was badly hurt in a wreck yesterday, so I boarded at their port-of-call and sang last night for the group that got off the boat this morning. I'll be with this new group, your group, for seven nights, until you debark in Memphis. I should get to know the passengers. I can't alienate anyone, even aggressive females. I want them to show up for the show after dinner."
She pulled her phone from her back pocket, and they exchanged numbers.
"I hope you're a country music fan," he said.
"That goes without saying. I'm from Oklahoma. Garth. Reba. Blake. But I need more information about you so I don't blow our cover," she said. "I don't know your last name."
"Allen. Scott Allen."
"Scott Allen. I think I've heard that name before."
"There's a hockey coach by that name. That's not me."
"I don't know hockey."
"Well, one of my songs got a lot of radio time several months ago. You may have heard it."
"What song?"
"The Man in the Moon is Me."
"Oh, I love that song. So romantic. Watching his love from a distance."
"Thanks." He felt his smile grow wider with her praise.
"Tell me all about you so I don't act surprised when people at dinner ask your background and I learn new things. We want our plan to be flawless."
He told her about his band in college, then the army, flying helicopters, and his upcoming move to Nashville.
"That's from age eighteen to thirty-one. What about your childhood?"
"I won't be sharing that at dinner."
She lifted her eyebrows, but didn't pry. "Okay."
"Your turn."
She told him about teaching sophomore math and living in a one-room schoolhouse on her grandpa's ranch.
"What about your childhood? Why do you live in an old schoolhouse?"
"I won't be sharing that at the dinner table."
"Fair enough," he said, but he wanted to know more.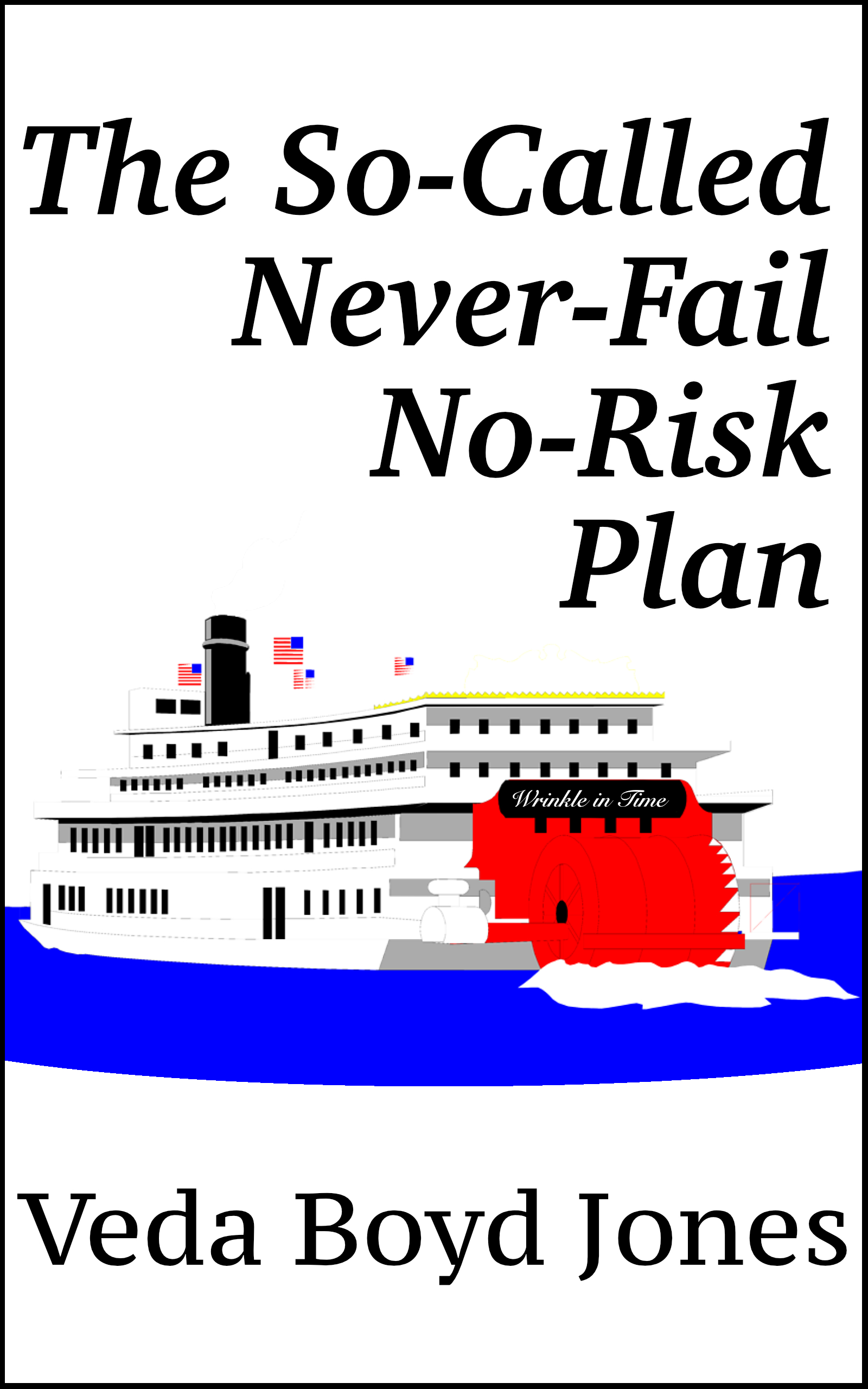 On her Christmas riverboat cruise on the Mississippi, schoolteacher Vicki Wrey enlists the help of the man in the stateroom next door to get away from an obnoxious guy. In turn Scott Allen, the country singer who provides entertainment for the passengers, calls on her to rescue him from an aggressive female. Thus their rescue plan begins. But what's fake and what isn't?
Download your copy of The So-Called Never-Fail No-Risk Plan today!