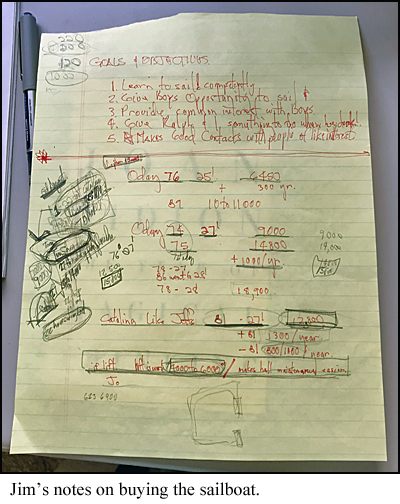 A friend once told me that after her husband died, she wondered if she would find anything she didn't want to find in his belongings. "Everyone has a secret side," she said, but she found nothing untoward.
I've found a few things I didn't expect.
I finally tackled Jim's desk and drawing board area. In one file I found a yellow sheet on which he'd scrawled the goals and objectives of buying half-interest in a 13-year-old sailboat back in 1994.
Learn to sail competently.
Give boys opportunity to sail.
Provide common interest with boys.
He had also scribbled numbers of what it would cost a year to maintain the boat and the price of other old boats. He'd done his research. I knew he wanted to sail, and I had no objection to him buying a boat. [see essay for May 2015: Goodbye to the Sailboat] What I didn't know was that he took our three sons into consideration when making that decision.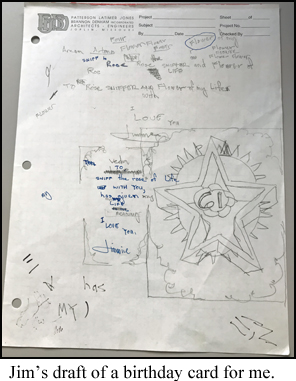 On a pad of scribbles I found these words written, not as a list, but at odd angles on the page. "Old men and boys build bird houses. HOPE. Soul? We are all Indians. Life is always out of…" then something here I can't make out. He was thinking, always. And sometimes he wrote down his thoughts, much like I do.
In a stack of papers, Jim's usual messy method of filing, I found a draft of a birthday card he'd made. He always made valentines and birthday cards for me.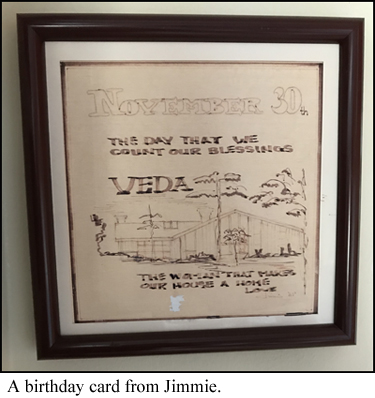 Although Jim was a bad speller before the stroke, he was awful afterward. But he kept at it. On this planning sheet, he tried to spell flower six ways before he got it right. He also wrote a couple drafts of the card. (We walked each day, and when in season, I stopped to smell a neighbor's roses. Jim would wait patiently for me on some days or impatiently on other days, but he would wait or walk backwards and watch me until I caught up). On the card he wrote "Rose Sniffer and Flower of my Life," and then revised, "To sniff the rose of life with you has given my life meaning."
Of course, I have all the cards Jim made, if not on the walls of my office, then in the wooden treasure box my dad made years ago.
Jim was a complex man, and what I found out about him from his notes makes me love him more. But don't think for a minute that there weren't days that everything Jim said and did irritated me, and I suspect vice versa. But we were a solid couple, with code words and a secret way of holding hands. We danced in the kitchen to no music.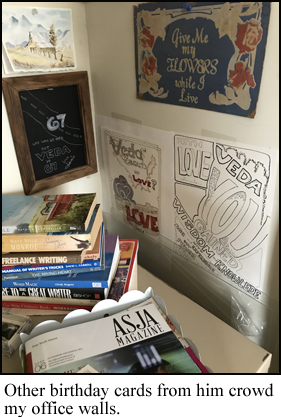 I miss him.
But I am trying to make a good life as he told me to do before he died. I am becoming my own person, and I'm not doing much that I don't want to do.
I'm not quitting writing since I enjoy that, but I'm taking time off from writing my first-of-the-month essays. I started them in 2012 to keep my website fresh, and the old essays are archived there. Sometimes meeting the first-of-month deadline weighs on me since I must always come up with something to write. Although I have a long list of topics, if the subject doesn't strike a chord inside me at that moment, I just don't want to write about it.
Today I didn't set out to write about Jimmie, [see essay for August 2016: How to Treat a New Widow] but to write about old spices and to just say I'm not writing essays for a while.
But I'm still cleaning out. Next I'll tackle those decades of IRS folders. Now that's something I'm not keen on doing, but it will be a pleasure to shred all that paper for the recycle cart.
Until I return from this hiatus… be well.
Thanks for reading my thoughts.  -Veda