I've always wanted a tattoo, but needles scare me. I'll be kind and not post a picture of the tattoo Jimmie drew on my lower back. A tramp stamp. (I learned that term long ago from one of the boys.) The one Jim drew with a blue Sharpie resembled the Kilroy-is here-peering-over-the-fence look from WWII. That was just last year.
A year earlier, Jim came home later than usual from his noon Kiwanis meeting carrying a drum. Before that he'd bought drumsticks and used the bottom of an old white plastic pail as the striking surface. The day he bought the drum, he played along with songs on the radio and I danced on the round marble coffee table like a go-go girl. We laughed until we had tears in our eyes.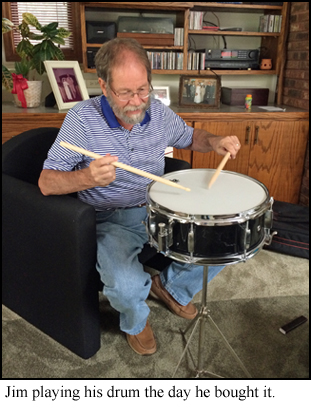 We often danced in our big room to songs from our past. We preferred oldies (Beatles, Eagles, Moody Blues) that had a melody instead of today's talk/sing with words our ears couldn't make out.
Many nights, we'd go out in the backyard and look at the moon and the stars and wonder what early man made of such heavenly bodies. We wished on shooting stars during annual meteor showers. Once in the backyard, Jim mowed a heart shape for me that I could see out my office window.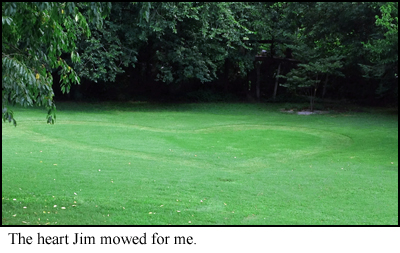 After supper, we carried on long conversations on the screened-in back porch. We discussed topics from why gnat-like insects in the yard flew in whirling bunches, resembling the antics of schools of fish, to why people ever voted a straight ticket without looking at individual candidates and their characters and problem-solving abilities. One summer, night after night, I read aloud Moby Dick (for our book club) and we reminisced about checking out all the nooks and crannies of the Charles W. Morgan, the old wooden whaling ship at Mystic Seaport in Connecticut.
Of course, there were times I was aggravated with Jim. Why didn't he know I had just swept the front walk before he used a weed whip, throwing grass all over it? I had to tell him when he hurt my feelings because he was a typical man (no offense) and didn't realize what he'd said had hurt me. (There might even have been times when he was irritated with me.) In our forty years of marriage there were minor ups and downs, but on the whole, we were a solid team.
Listen to me talk about him. I need to remember him. I need to know he existed and I didn't dream my other life that seems like five years ago or five days ago or five hours ago. Time makes no sense now.
That's how you treat a new widow. You listen to her talk about her beloved, even if she repeats stories, and you tell her every story you know about him, too.