Surprising neighbors with May baskets has been a family tradition. But we've always had older neighbors who were not actually surprised.
When I was young, it was quite exciting to run the construction paper cone-like basket filled with whatever was blooming in the yard, usually iris, to the neighbor's home, hang it on the screen door, knock hard, then run and hide behind a nearby bush. Peaking at the neighbor and hearing her exclaim in a loud voice what a surprise it was, gladdened my heart.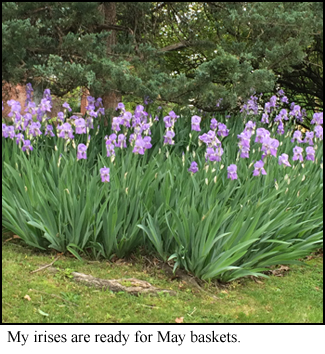 It was only after I was in college when a neighbor in Neosho confided how pleased he and his wife were to get my May baskets that I realized all those people I had surprised knew it was me.
In the blink of an eye it was time to teach our sons how to make May baskets. Since a writer uses personal experiences as fodder for material, I wrote a how-to article and sold it to Humpty Dumpty magazine. (Warning to all: Be careful how you treat me. You may show up in a short story as the villain.)
But, as usual, I digress.
At one time the boys and I made several May baskets. One neighbor moved, and I drove across town to deliver the basket. She actually wrote me saying how much it meant to her to be remembered with the flowers. She was aware it was a secret, but she wrote that everyone in the neighborhood knew the boys delivered the baskets.
Now that our sons have moved off on their own and our older neighbors have departed this world, I deliver only one basket. This Sunday on May Day, I'll limp across the street on my still healing sprained ankle to deliver a basket of flowers to Mrs. Shafer. The irises are cooperating this year and will be in full bloom for the basket. (There have been a couple late spring years when I've had to buy flowers.)
The college boys in the house next door would think I was loco if I hung a basket of flowers on their front door, but now that I think of it, they might be the first ones I'd truly surprise if I hung one there. I'll believe I'll give it a try.
Why not surprise a neighbor with your own May basket? It's an old tradition that needs to be revived.