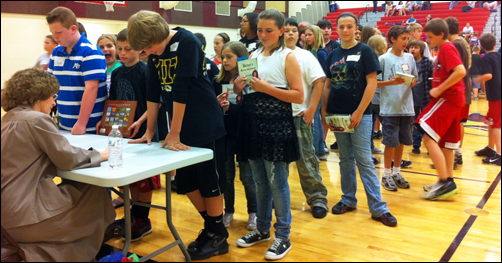 Veda Boyd Jones has spoken at writers' conferences and taught writing seminars in New York, Kansas, Missouri, Oklahoma, Arkansas, Texas, and Kentucky.  She makes school visits and speaks at young authors' programs and at literature festivals.
E-mail speaking@vedaboydjones.com for information on fees and availability.
Veda speaks on a variety of topics and can tailor a presentation for your school or writers' organization. Previous presentations include:
For Schools:
Students
Veda offers a variety of educational programs for students K-8. Each program is based on Veda's fiction and nonfiction books, and all programs emphasize the writing process. A school visit is usually for a full day, no more than four  50-minute sessions, and students are combined by grade level. Programs are age appropriate.  Programs can  be changed to fit libraries, young author conferences, and children's literature festivals.
Teachers
Veda covers the basics of writing skills and how to teach short story and essay writing to kids. She has spoken at several professional development days for English teachers with half-day sessions.
For Writers:
Stopping Time
Writing the Historical Novel: Veda will discuss the research involved in historical fiction, the purpose of historical fiction, and the difference between historical fiction and something that was written as a contemporary novel (ex: The Great Gatsby), which fits into the past and is now labeled as realistic fiction.
The Writing Life
Veda presents her journey through the publishing world. Attendees come away entertained and inspired.
Dialogue Workshop
When to include dialogue and when to use narration is included in Veda's workshop on dialogue. Handouts included.
Researching Nonfiction
Veda relies on her MA in history and her personal experience researching her 26 nonfiction books for children, ranging from books for new readers to high school students.
So You Want to Write Your Memoir
The program has been presented to library groups and writers. Veda gives tips on organization, theme, and mapping.
Supporting Yourself as a Writer
This program has been given to college students embarking on careers as writers. It presents a myriad of money-making projects for writers.